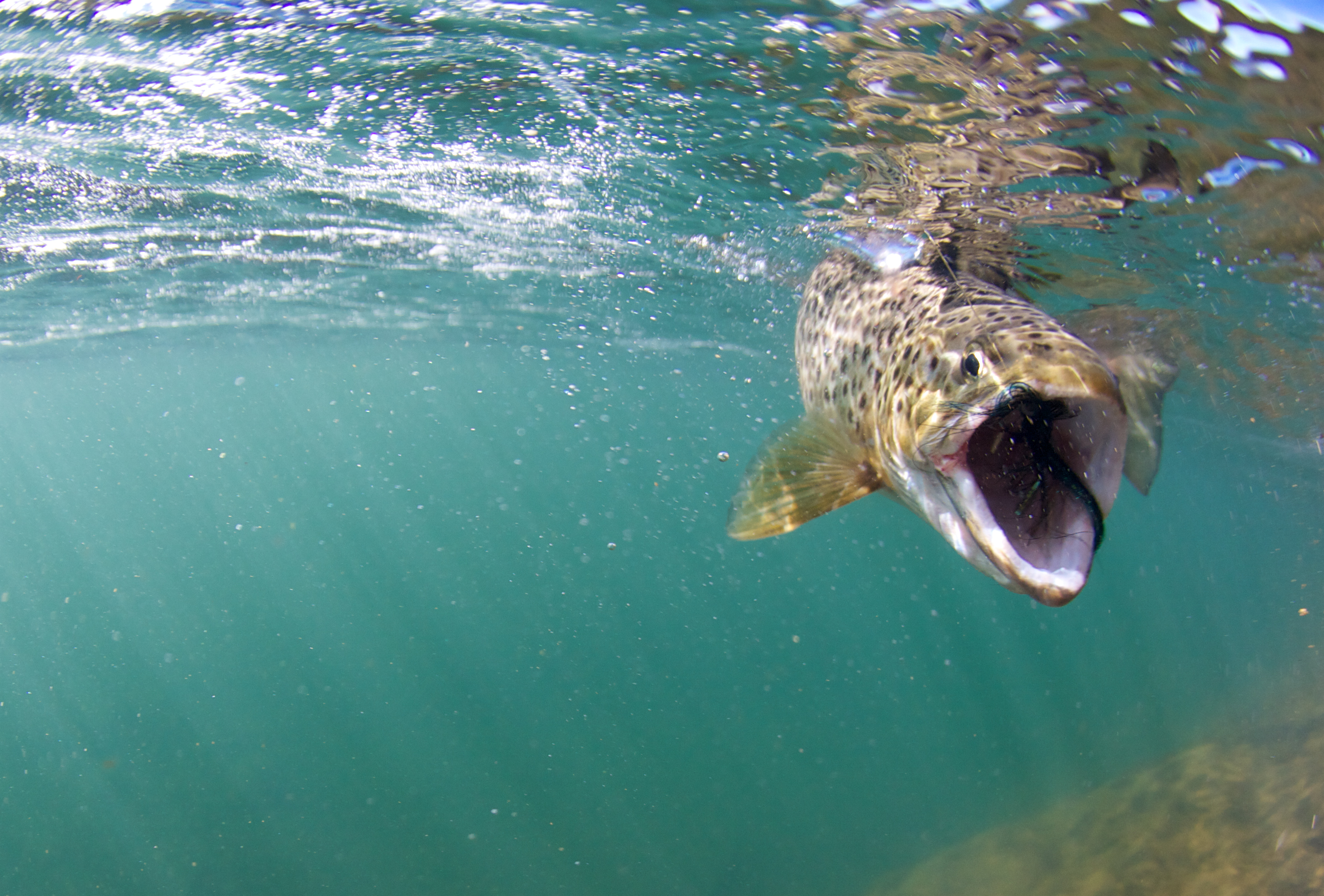 Welcome to Solitude Fly, the smallest wholesale fly fishing company in the universe providing unequaled customer service and quality to over 500 fly shops worldwide and two planets!
---
Check out our 1,400 award winning, fish catching flies tied with Daichi and Gamakatsu hooks and the finest fly fishing materials in the industry. And don't forget our jackets, nets and accessories.
Solitude is proud to represent some of the best fly tiers in the world. The Solitude Design Team includes flies designed by Rene Harrop, Shane Stalcup, Bob Brooks and Skip Morris as well as 57 other distinguished and creative tiers. You are just a click away from their creative patterns!
To all the fisher folks out there on the fly fishing frontier, our flies and products are only available from a dealer near you. Just go in and inquire whether they carry those fine Solitude flies available on this site. Have them give us a call and we will supply them with a full stringer of customer service. You win, they win, we win and the fish lose cause they are gonna get caught. Doesn't get any better than that.
WHAT OUR DEALERS ARE SAYING...
WE LOVE YOUR BUSINESS & THINK YOU RUN A FIRST CLASS ESTABLISHMENT. THANK YOU VERY MUCH.

DO YOU MAKE A BEAD HEAD FLY CALLED POP'S BUGGER? I FISHED WITH ONE IN PAGOSA SPRINGS, CO AND A SMALL STREAM IN NM AND THE FISH REALLY WENT AFTER IT. I WOULD SURE LIKE TO BUY SOME MORE. THANKS

I'm very interested in buying one of your Altima Wading Jacket, It's one of the BEST most functional Jackets I have ever worn. I stole my Dad's Jacket which is a medium and I have been wearing since. I'm an XL size guy Too! but I want one for my own. to my dismay there aren't many dealers aroung my area (I live in Maryland) and I can't go out and just buy one. There isn't much information on Your Website either about it, but I just wanted to know, are there different colors for this jacket? and how can I go about acquiring one? I have no idea how my dad came across his and nor does he remember. I want one! I choose his over Northface, Helly Hansen, Marmot and other outdoor gear company. I've even come as far as thinking about investing in one of those Henry sailing jackets! but they are pickles compared to the Altima. Please Help!.

You provide superior quality in both your flies and customer service and I greatly appreciate it.

Just wanted to send a quick note and say thank you for the quick turnaround and generous terms on the special fly order. You guys are truly one of the best to deal with in the industry and make my job so much easier when you deliver product when we order it, and deliver some of the highest quality flies in the industry. So Thanks again for your help in making our business a successful one. And by the way, those red fish spoonfly's work great on trout, just keep that one under your hat.

Dear Solitude, I bought your Guide Vest and it is amazing comfortable, roomy but not bulky, I love it. Thanks

World Class Service ! From Mike Ward To Ray Chang Hey Ray, Ordered the flies yesterday, received them via UPS at 1:45 pm today. Unbelievable service. That is why every fly shop and industry professional holds Solitude Fly in the highest esteem. Again, thanks for all you do.

Hey! Just wanted to stop by and tell you how much I am enjoying your products! Im a HUGE fan! Thank you!

Ray and Company, I've been in the fly fishing industry for 20 years and I just have to tell you that out of any company in the entire industry Solitude is the most reliable, professional and fastest entity. On a Friday, same day shipped - it's just unheard of, keep up the awesome work. Many thanks for always coming through in the fastest way possible! Best.

Truly monster brown trout are very efficient eaters. Rather than take insect after insect during a hatch, they consume one meaty meal.

Mark Shelton was in my shop today and I showed him this picture. One of my customers caught this fish on a #4 White Sculpzilla in Costilla Reservoir on Vermejo Park Ranch in New Mexico. We love that streamer pattern for lake browns!
Ray Chang & John Bonk
A hearty thanks to our existing loyal customers for your continued support and business. For those new fly shop owners checking out our web site for the first time, give us a call. We're here to serve . As always, we continue to welcome your comments and ideas in order to serve your better. Remember, Solitude's mission is to provide you, our customer, with whatever you want, when you want it. And don't forget, we are still available for fishing trips. We supply the flies! You supply the lodging, food, Jack Daniels and beer! What a deal!
---
---
---